Study Offer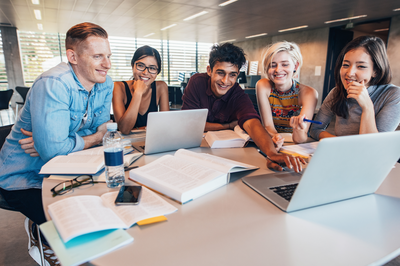 The promotion of young scientists is an important concern of the Geoverbund ABC/J:
ABC/J students can therefore take advantage of the extensive range of geosciences courses with numerous Bachelor's and Master's degree programmes without paying a second student fee.
This broad selection of shareable courses, as well as new courses emerging from research, gives students many opportunities to develop their own profile. You can find out exactly what these are here:
| Location | Study programme |
| --- | --- |
| RWTH Aachen | |
| Universität Bonn | |
| Universität zu Köln | |
In addition, the Geoverbund ABC/J is committed to joint teaching offers across different locations and eases administrative hurdles. In addition to the abolition of second learner fees, this has also resulted in the recognition of study credits between the universities. The Master's programme in Disaster Risk Reduction and Management (KaVoMa) also enables in-service training with a scientific background.
Events such as job and internship fairs at universities are supported organisationally and financially by the Geoverbund ABC/J. In addition, the Geoverbund ABC/J offers an online job and internship exchange that also includes topics for bachelor's, master's and doctoral theses. The ABC/J-GeoExpertNetwork also makes it possible to research potential contacts according to the respective personal interests.
The ABC/J-Excursion takes you to exciting regions of our earth and addresses various geoscientific questions. The Geoverbund ABC/J provides scholarships for students in the master's and doctoral phase to participate in the excursion. In addition, the students in the Geoverbund ABC/ are directly involved in all ongoing processes through student representation in the steering group.
Study across locations without a second student fee
You are studying a geosciences degree programme at RWTH Aachen University, the University of Bonn or the University of Cologne and are interested in a module offered at one of the three partner universities? No problem! Because the universities cooperating under the umbrella of the Geoverbund ABC/J have already contractually agreed to mutually waive the charging of a second student fee in 2012.
For students in the ABC/J region, this means that you can take advantage of the earth science courses offered by the Bachelor- and Master-Study programmes can be used without additional costs. In this way, individual profiling and mobility is promoted.
For participation in modules of the partner universities outside of the degree programme for which students are enrolled, and so that the achievements made within this framework can be recognised within the framework of the actual degree programme, it is necessary to contact the respective responsible contact person of the subject-related study guidance at the universities in advance!
Last Modified: 07.11.2023